Assessment of potato varieties preserving at VIR's collection to (Phytophthora infestans) resistance for late blight in field and laboratory evaluation
N. M. Zoteyeva

All-Russian Institute of Plant Genetic Resources, St. Petersburg, Russia

O. S. Kosareva

All-Russian Institute of Plant Genetic Resources, St. Petersburg, Russia
Keywords:
Solanum tuberosum, late blight, inoculation, resistance of leaves, resistance of tubers
Abstract
Thirty-eight varieties of potato Solanum tuberosum L. from the N. I. Vavilov All-Russian Institute of Plant Genetic Resources (VIR) collection were studied for leaf and tuber resistance to late blight. Аn aggressive Phytophthora infestans isolate collected from VIR experimental field was used for inoculation at a concentration of 50,000 zoospores/ml. The disease severity was evaluated using a scale from 1 to 9 grades, where grade 9 means resistant. Recent field observations revealed that most of the variety accessions were sensitive to late blight. In the present study, some of the varieties identified as foliar resistant in field evaluation were further tested under artificial inoculation. Resistance of some varieties found in field observations was not confirmed in laboratory assays. The data obtained in tuber inoculation tests did not show a direct correlation between resistance levels in leaves and tubers. Only some varieties possessed both characteristics, while varieties with leaf resistance and tuber sensitivity and with tuber resistance and leaf sensitivity were also identified. To develop potato varieties that combine resistance to late blight with good agronomic characteristics, resistant lines identified in this study can be potentially hybridized with varieties of high consumer value that are susceptible to late blight.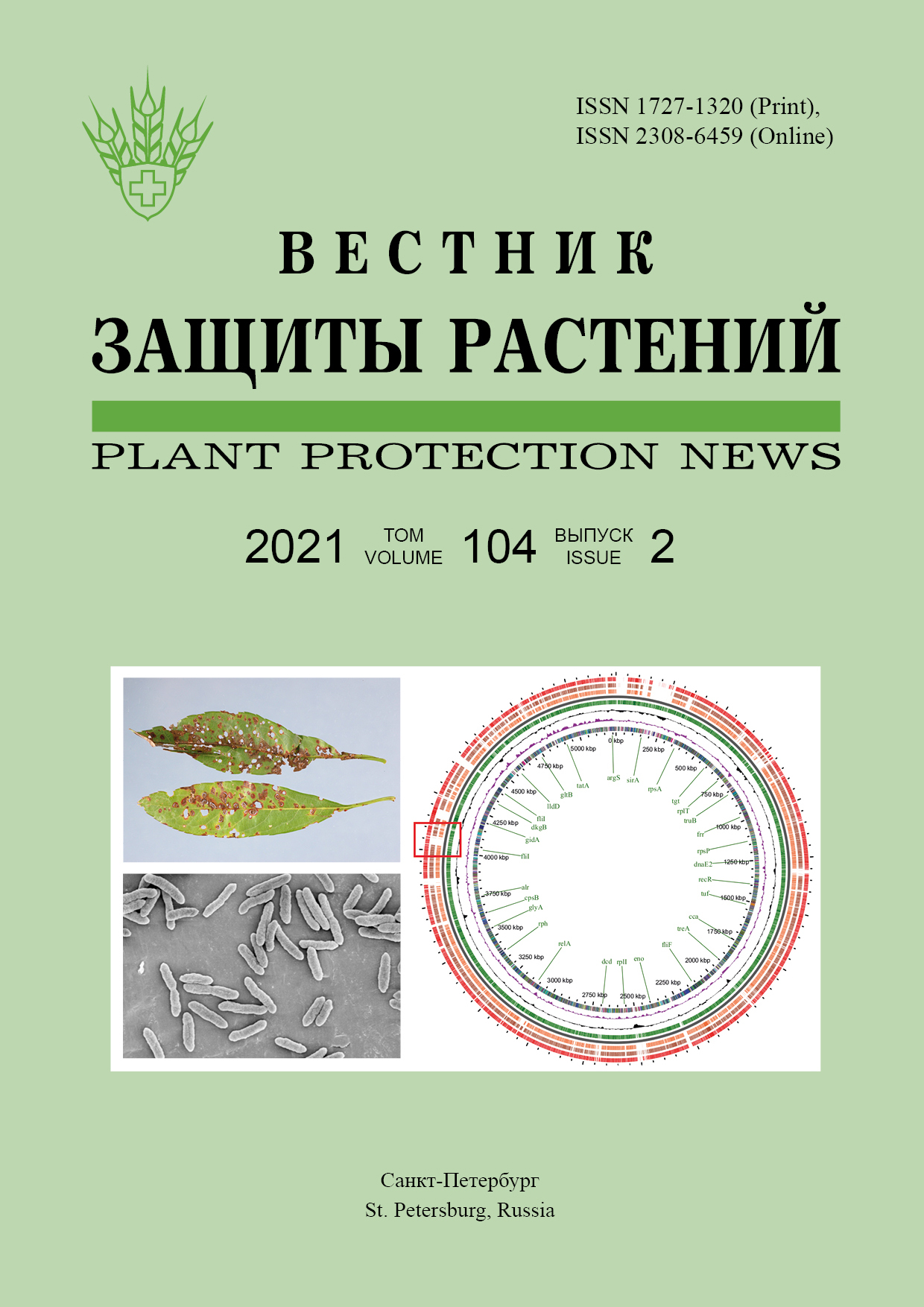 How to Cite
Zoteyeva, N., & Kosareva, O. (2021). Assessment of potato varieties preserving at VIR's collection to (Phytophthora infestans) resistance for late blight in field and laboratory evaluation. Plant Protection News, 104(2), 113-119. https://doi.org/10.31993/2308-6459-2021-104-2-14616
Issue
Section
Full-text articles
Copyright (c) 2021 Plant Protection News
This work is licensed under a Creative Commons Attribution 4.0 International License.