Biodiversity of the Fusarium fungi causing root rot of winter cereals in Belarus
N. A. Krupenko

Institute of plant protection, Priluki, Minsk district, Belarus

S. F. Buga

Institute of plant protection, Priluki, Minsk district, Belarus

A. G. Zhukovskiy

Institute of plant protection, Priluki, Minsk district, Belarus

I. N. Odintsova

Institute of plant protection, Priluki, Minsk district, Belarus

A. A. Zhukovskaya

Institute of plant protection, Priluki, Minsk district, Belarus

T. G. Pilat

Institute of plant protection, Priluki, Minsk district, Belarus

V. G. Leshkevich

Institute of plant protection, Priluki, Minsk district, Belarus
Keywords:
Fusarium root rot, species composition, pathogen complex, occurrence frequency, weather conditions
Abstract
Fusarium fungi are the main causal agents of root rot of winter cereals in Belarus. As many as 12 different species were identified, with occurrence being dependent on the cereal host species and weather conditions during the growing season. Lack of precipitation from April to July led to decreasing fungal biodiversity. Fusarium pathogen complex on wheat roots was formed by F. culmorum, F. avenaceum, F. equiseti, F. oxysporum, whereas F. equiseti and F. oxysporum prevailed on triticale and rye, and F. solani, F. avenaceum and F. equiseti dominated on barley root systems. The infestation of root with F. oxysporum increased under dry conditions. In contrast, F. culmorum was isolated from root system of wheat and triticale more frequently when rainfall was sufficient. For the first time, F. cerealis and F. tricinctum were isolated from triticale, and F. cerealis from rye only, in the Republic of Belarus.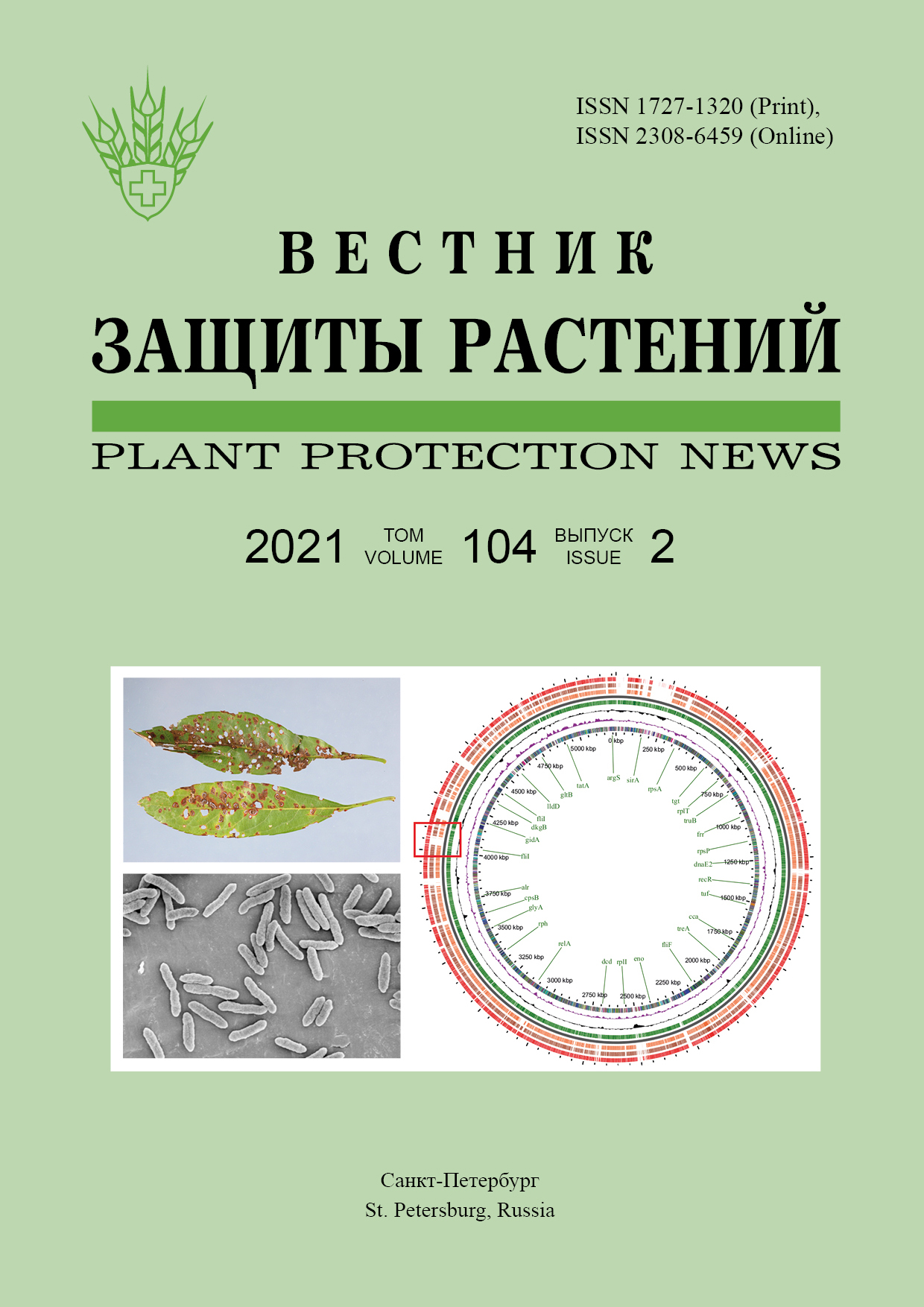 How to Cite
Krupenko, N., Buga, S., Zhukovskiy, A., Odintsova, I., Zhukovskaya, A., Pilat, T., & Leshkevich, V. (2021). Biodiversity of the Fusarium fungi causing root rot of winter cereals in Belarus. Plant Protection News, 104(2), 124-127. https://doi.org/10.31993/2308-6459-2021-104-2-14631
Issue
Section
Short communications
Copyright (c) 2021 Plant Protection News
This work is licensed under a Creative Commons Attribution 4.0 International License.