Resistance of wild solanum species and hybrids to early and late blight
N. M. Zoteyeva

All-Russian Institute of Plant Genetic Resources, St. Petersburg, Russia

V. V. Vasipov

All-Russian Institute of Plant Genetic Resources, St. Petersburg, Russia

A. S. Orina

All-Russian Institute of Plant Protection, St. Petersburg, Russia
Keywords:
Alternaria solani, Phytophthora infestans, Solanum spp., inoculation, interspecific hybrids
Abstract
Early and late blight are the most harmful diseases of the potato causing significant economic losses in many regions where this crop is cultivated. The search for donors with complex resistance to these diseases is a priority for potato breeding. Twenty-one accession s of wild Solanum species and interspecific hybrids with various pedigrees were studied. The reaction of plants to the infection caused by Alternaria solani and Phytophthora infestans was assessed separately in the laboratory test using the inoculation of leaf disks and leaf fractions of the potato accessions with a suspension of pathogen conidia and zoospores, respectively. All studied potato accessions showed the symptoms of early and late blight after the inoculation, but significantly varied in sensitivity to the pathogens. Inoculation caused by A. solani led to the development of necrosis of the analyzed potato accessions, covering from 1.2 % to 11.5 % of leaf disk area. After the inoculation with P. infestans the intensity of the symptom development on the leaf fractions of all analyzed potato accessions varied from 3 to 9 points on a 9-point scale. Six potato phenotypes represented by one Solanum species and 5 interspecific hybrids with complex resistance to early and late blight were identified.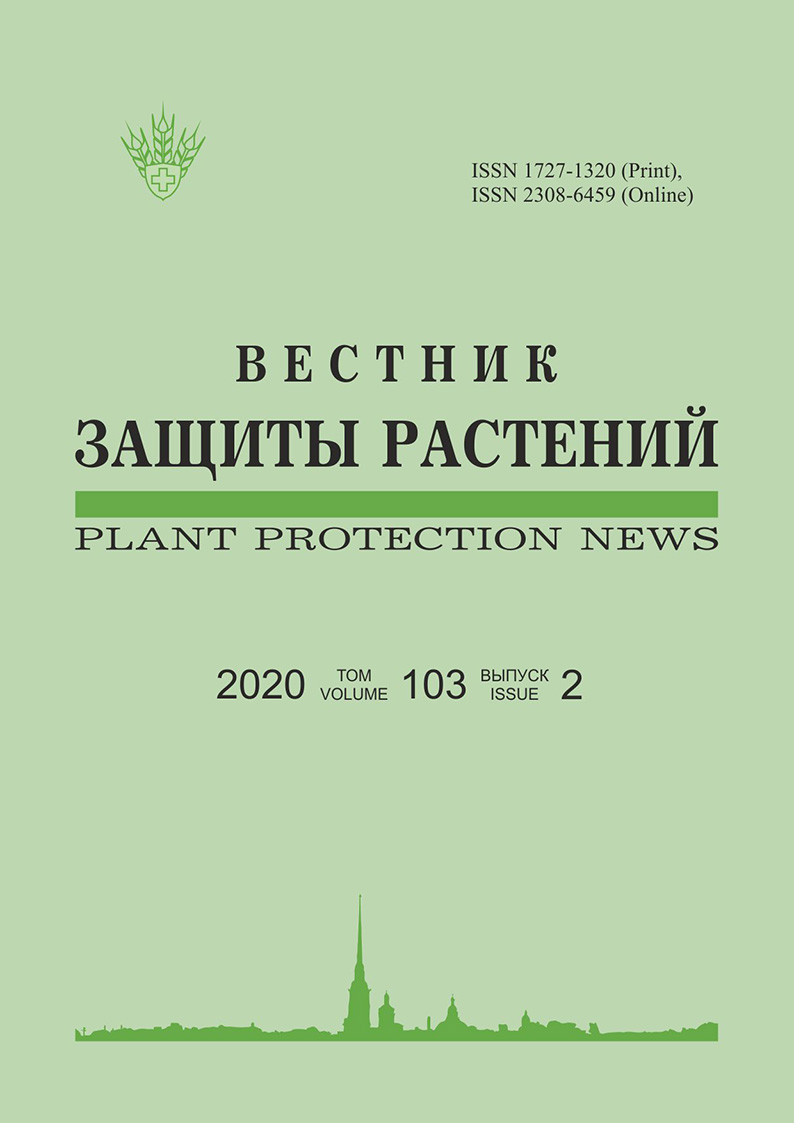 How to Cite
Zoteyeva, N. M., Vasipov, V. V., & Orina, A. S. (2020). Resistance of wild solanum species and hybrids to early and late blight. Plant Protection News, 103(2), 99-104. https://doi.org/10.31993/2308-6459-2020-103-2-13347
Issue
Section
Full-text articles
Copyright (c) 2020 Plant Protection News
This work is licensed under a Creative Commons Attribution 4.0 International License.