Biological characteristics of Cydalima perspectalis (Lepidoptera: Crambidae) in Crimea
Yu.V. Plugatar

Federal State Funded Institution of Science "The Labor Red Banner Order Nikita Botanical Gardens – National Scientific Center of the RAS"Republic of Crimea, Yalta

А.К. Sharmagiy

Federal State Funded Institution of Science "The Labor Red Banner Order Nikita Botanical Gardens – National Scientific Center of the RAS"Republic of Crimea, Yalta

E.B. Balykina

Federal State Funded Institution of Science "The Labor Red Banner Order Nikita Botanical Gardens – National Scientific Center of the RAS" Republic of Crimea, Yalta
Keywords:
invasive species, boxwood moth, phenology, life span, sex ratio, fecundity
Abstract
Studies in the Crimea have shown that both on the southern coast and in the central foothill region, an adventive pest of plants of the genus Buxus - the boxwood fireweed (Cydalima perspectalis), develops in three generations. Caterpillars of the second - third instars hibernate; their emergence from diapause occurs in early April. The timing and duration of development of each of the three generations of the boxwood firefighter in the conditions of the Crimea were determined, the lifespan of the imago was determined, averaging about two weeks, with some individuals living for more than 20 days. The sex index in adults varies in different generations, depending on the living conditions. Thus, in the central foothill region in the first generation, the ratio of females and males reaches 2: 1, and in the second generation, both the proportion of males and melanistic individuals increases in comparison with typically colored butterflies. In each of the three generations, males emerged from pupae 3-5 days earlier than females. The fertility of melanistic females is higher than that of the typically colored. A spring-summer diapause was observed in caterpillars of II-III instars in the overwintered, first and second generations.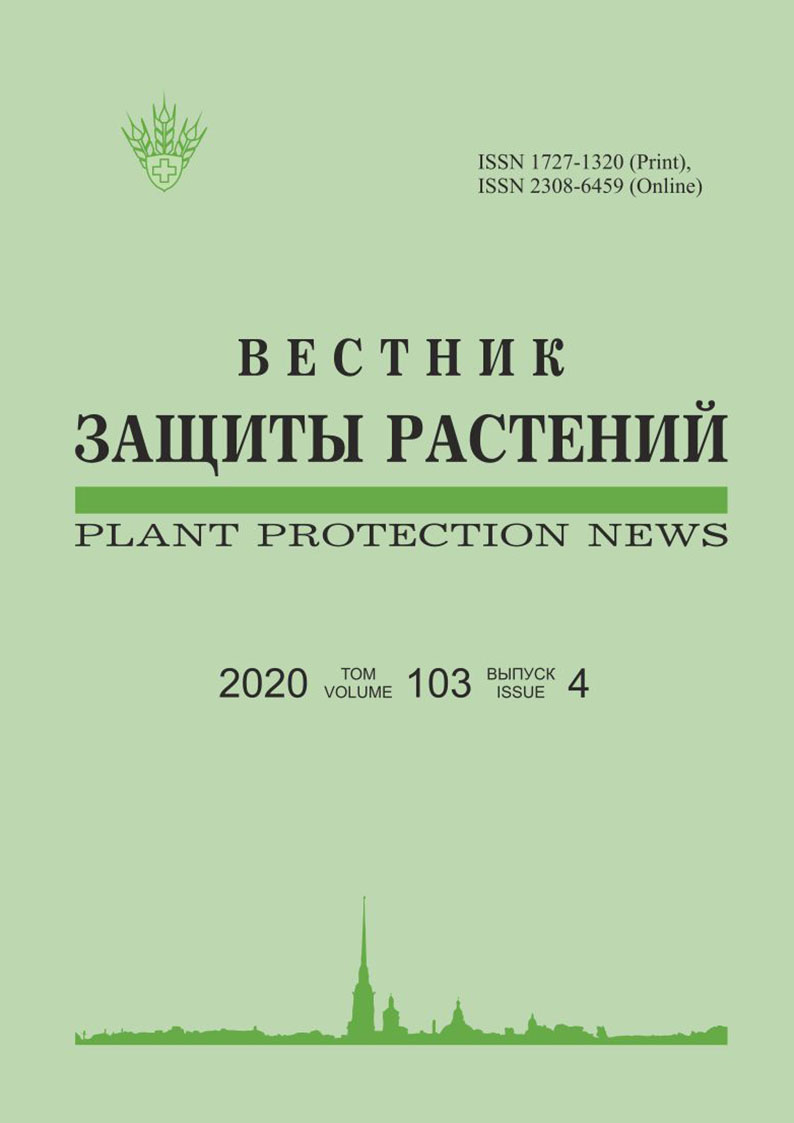 How to Cite
Plugatar, Y. V., Sharmagiy, A. K., & Balykina, E. B. (2020). Biological characteristics of Cydalima perspectalis (Lepidoptera: Crambidae) in Crimea. Plant Protection News, 103(4). https://doi.org/10.31993/2308-6459-2020-103-4-13348
Issue
Section
Full-text articles
Copyright (c) 2020 Plant Protection News
This work is licensed under a Creative Commons Attribution 4.0 International License.