Leds and semiochemicals vs. Sex pheromones: tests of the European corn borer attractivity in the Krasnodar territory
A. N. Frolov

All-Russian Institute of Plant Protection, St. Petersburg, Russia

I. V. Grushevaya

All-Russian Institute of Plant Protection, St. Petersburg, Russia

A. G. Kononchuk

All-Russian Institute of Plant Protection, St. Petersburg, Russia
Keywords:
attraction, Ostrinia nubilalis, sticky Delta trap, bisex lure, LED, sex pheromone
Abstract
In two geographical points of the Krasnodar Territory, viz. vil. Botanika, Gulkevichi District (eastern subzone of the Central natural-economic zone of the Krasnodar Territory) and st. Kurchanskaya, Temryuk District (Anapo-Taman natural-economic zone) on industrial plantations of maize, Delta sticky traps supplied with various baits were tested for attractiveness for adults of the European corn borer (ECB), Ostrinia nubilalis Hbn. In contrast to sex pheromones, traps with 'bisex lure' (semiochemicals phenylacetaldehyde and 4-methoxy-2-phenethyl alcohol) or LEDs captured a considerable number of females, whose prognostic value was significantly higher than that of males. On maize fields near Botanika traps with 'bisex lure' caught moths almost at 20- and traps with LEDs more than 70-fold higher rate as compared to sex pheromones. On maize plantations near Kurchanskaya, where both the saturation of crop rotations with maize fields and the pest population is significantly lower, semiochemicals caught ECB moths at the same rate as sex pheromones, in contrast to LEDs, which attracted insects by an order of magnitude more frequently. The results of the tests indicate that the use of LED traps for monitoring of ECB is promising under the modern economic situation of expanding the territories intended for the production of corn grain.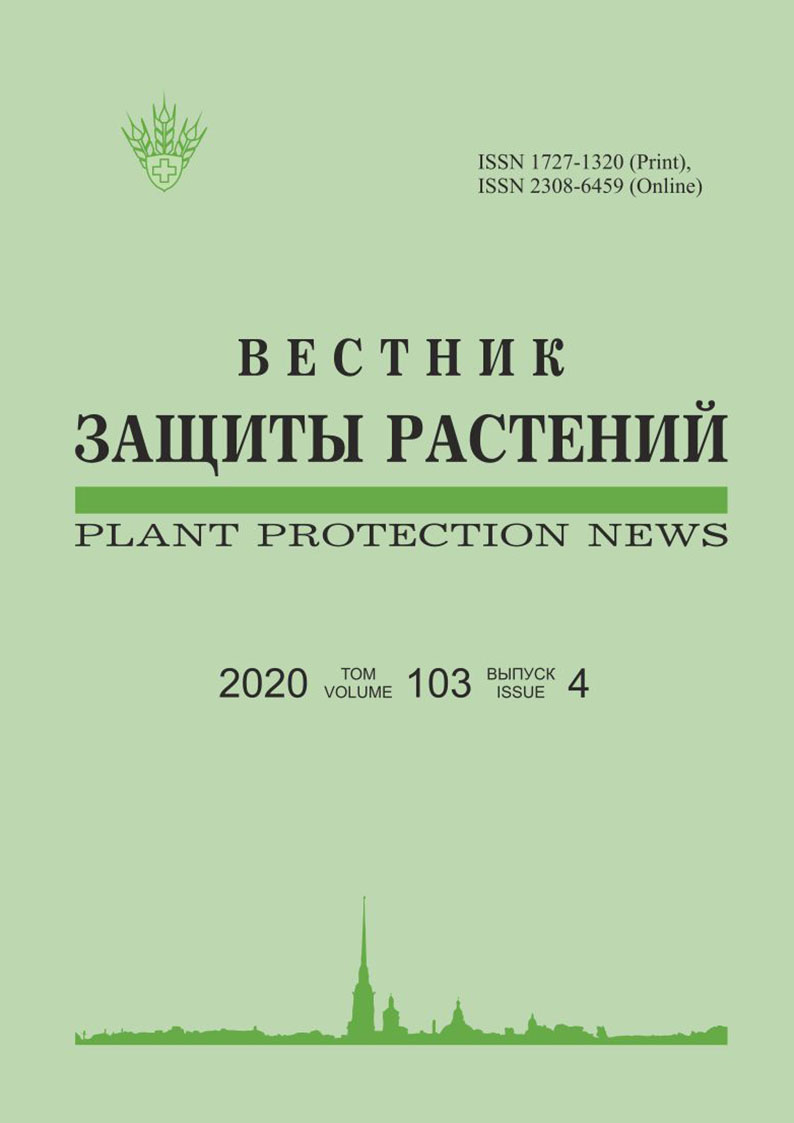 How to Cite
Frolov, A. N., Grushevaya, I. V., & Kononchuk, A. G. (2020). Leds and semiochemicals vs. Sex pheromones: tests of the European corn borer attractivity in the Krasnodar territory. Plant Protection News, 103(4). https://doi.org/10.31993/2308-6459-2020-103-4-13989
Issue
Section
Short communications
Copyright (c) 2020 Plant Protection News
This work is licensed under a Creative Commons Attribution 4.0 International License.