Selection of target genes for pcr diagnostics of Xanthomonas arboricola virulent for cereals and brassicas
E. I. Kyrova

All-Russian Institute of Plant Protection, St. Petersburg, Russia

A. N. Ignatov

Russian University of People's Friendship, Moscow, Russia
Keywords:
genome analysis, virulence genes, sunflower, real time PCR, seedborne infection
Abstract
Plant pathogenic xanthomonads virulent to wheat, rye, barley, tomato, sunflower, and brassicas were isolated in Russia in 2001–2008. Physiological tests and multilocus sequence typing analysis confirmed their position within the Xanthomonas arboricola species. The obtained draft genome sequence of representative strain 3004 from barley plants, which is also virulent to sunflower, brassicas, and chestnut, demonstrated an absence of the Type 3 Secretion System T3SS and an evidence for the lateral gene transfer of some other virulence genes from distantly related bacteria. It was concluded that T4SS genes can be used as the target for group-specific PCR analysis of the emerging pathogen. It was proposed to use virD4, virB3, virB4, and virB9 genes to design a detection system. After preliminary experiments with classic PCR for the chosen genes, primers and TaqMan(R) probe were designed to specifically amplify a 121 bp fragment of the VirD4 gene. Amplification products were obtained for all target Xanthomonas arboricola strains and were not detected in other Xanthomonas species, or in other pathogenic or epiphytic bacteria occurring on these host plants. The assay readily detected Xanthomonas arboricola infection in diseased plants and from bacterial colonies isolated on semi-selective media, and was more sensitive and specific than traditional plating methods.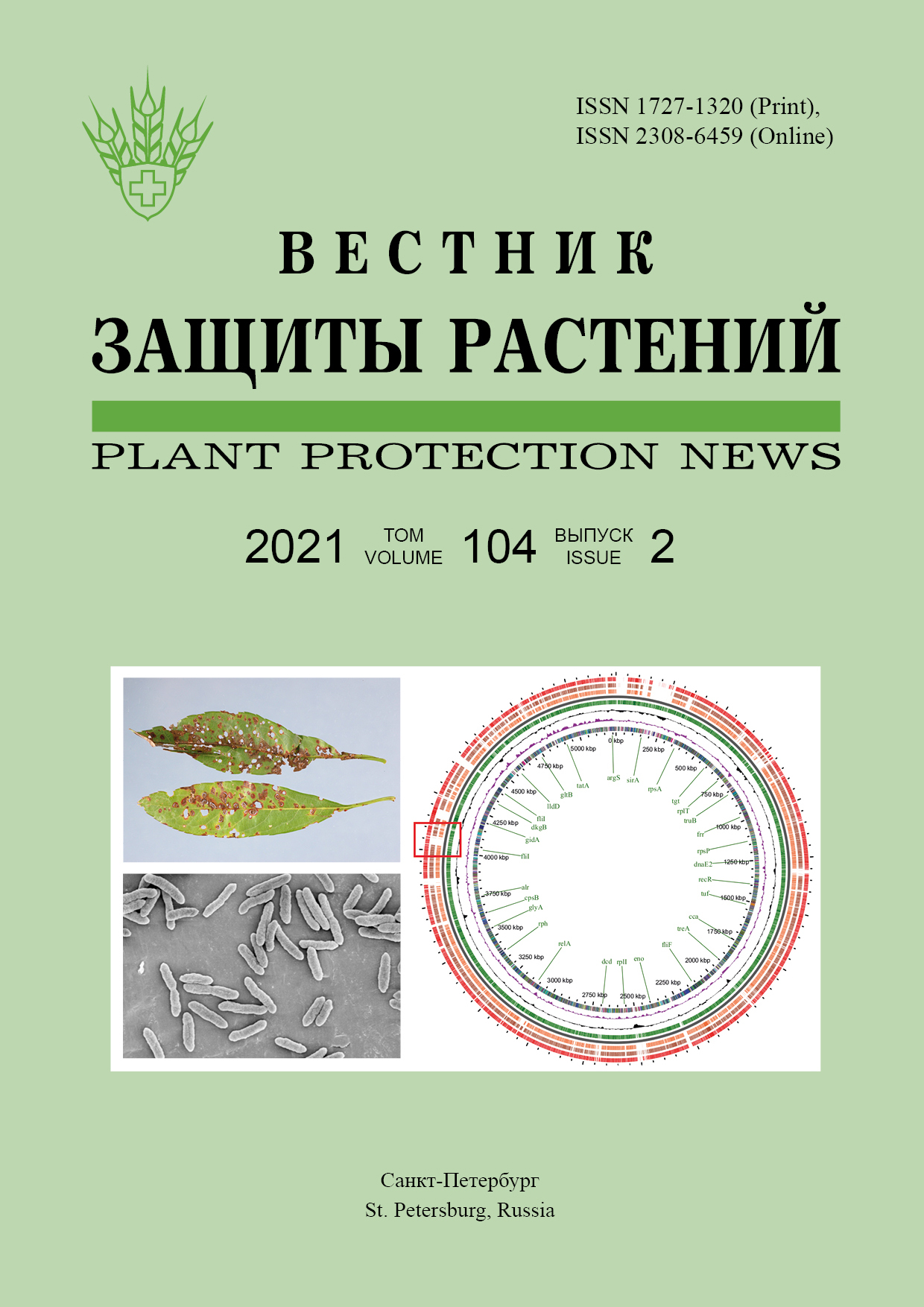 How to Cite
Kyrova, E., & Ignatov, A. (2021). Selection of target genes for pcr diagnostics of Xanthomonas arboricola virulent for cereals and brassicas. Plant Protection News, 104(2), 87-96. https://doi.org/10.31993/2308-6459-2021-104-2-14962
Issue
Section
Full-text articles
Copyright (c) 2021 Plant Protection News
This work is licensed under a Creative Commons Attribution 4.0 International License.