Molecular identification of stem rust resistance genes in new regional wheat varieties
O. A. Baranova

All-Russian Institute of Plant Protection, St. Petersburg, Russia
Keywords:
wheat, resistance, stem rust, Puccinia graminis f. sp. tritici, Sr genes, molecular markers
Abstract
Harmfulness of stem rust (Puccinia graminis f. sp. tritici) constantly increases and virulent races, including Ug99 group, are spreading on the territory of Russian Federation. Analysis of diversity in resistance genes (Sr genes) of Russian wheat varieties is therefore of great importance. In this study, 32 new soft wheat varieties, included in the State Register of Breeding Achievements in 2017–2018, were evaluated for resistance to stem rust at the seedling stage, and Sr genes were identified using molecular markers. To analyze the resistance of the varieties, the Omsk stem rust pathogen population 2018 years was used, as well as monopustule isolates PgtF1 and PgtZ1 from Saratov and Rostov pathogen populations. Phytopathological analysis was carried out using standard laboratory methods. The virulence analysis of the P. graminis f. sp. tritici was performed against a set of 20 differentiators (North American differential set) and 35 additional Sr lines. To identify the resistance genes (Sr2, Sr24, Sr25, Sr26, Sr28, Sr31, Sr32, Sr35, Sr36, Sr38, Sr57, and Sr1A1R), specific primers were used. Among the bread wheat varieties analyzed, those with high resistance to stem rust and known resistance genes were identified: Astarta (Sr31), Vekha (Sr31), Obskaya Ozimaya (Sr31), Leonida (Sr31), Karavan (Sr31), Alekseich (Sr31), Step' (Sr31), Bezostaya 100 (Sr31+Sr57), Zhiva (Sr31+Sr57) Vanya (Sr31+Sr57) and Velena (Sr31+Sr28). The latter four varieties possessed combinations of the Sr31 gene, effective against Russian populations of P. graminis f. sp. tritici, and Sr28 and Sr57 genes, effective against the Ug99 race group. These features make these varieties promising for cultivation under conditions of epiphytotic development of the pathogen.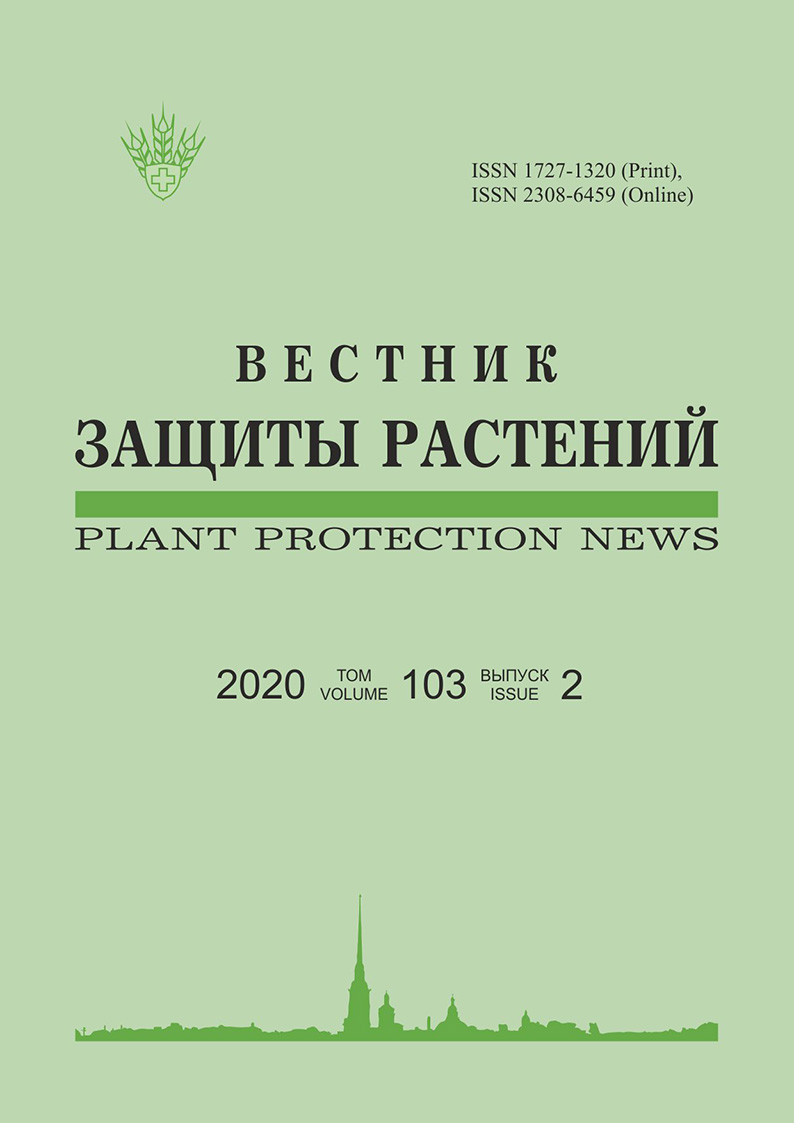 How to Cite
Baranova, O. A. (2020). Molecular identification of stem rust resistance genes in new regional wheat varieties. Plant Protection News, 103(2), 113-118. https://doi.org/10.31993/2308-6459-2020-103-2-4936
Issue
Section
Full-text articles
Copyright (c) 2020 Plant Protection News
This work is licensed under a Creative Commons Attribution 4.0 International License.